In addition to supporting City Rescue Mission with your financial gifts, we also welcome your gifts of food, clothing, household goods and furniture.
These gifts go directly to support individuals staying at the Mission, those enrolled in our programs such as LifeBuilders Recovery Program, or may be featured at our Thrift Store. When you donate goods to CRM, we will provide you with a tax-deductible receipt for your files. We accept both new and gently-used items.
Donations can be dropped off at:
All locations will accept
food donations of any kind.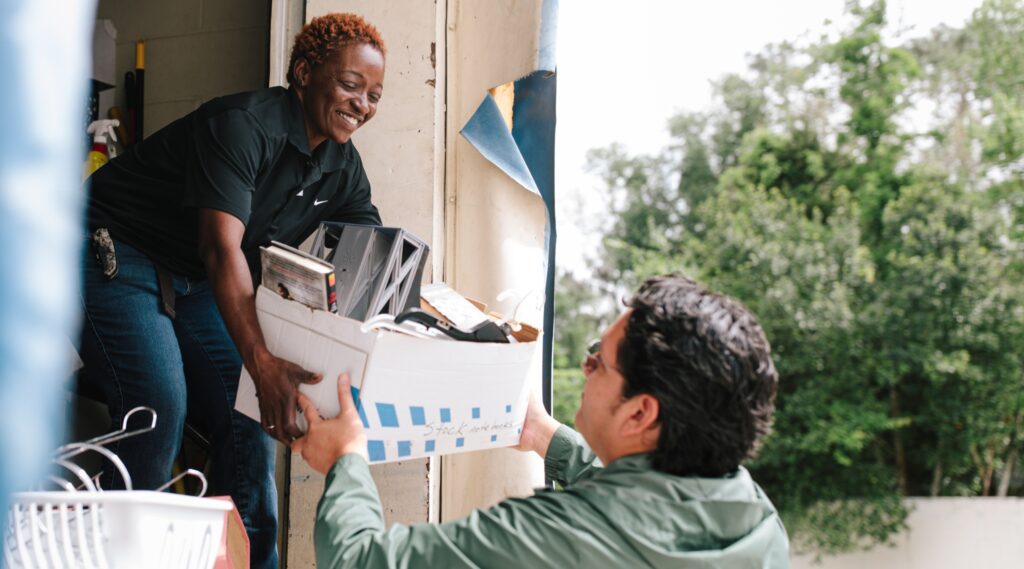 We are grateful to receive these items throughout the year:
Nonperishable food
Gently-used clothing
Gently-used household items
Toiletries
Furniture, clothing, household items, jewelry, etc. for our CRM Thrift Store at

7200 Normandy Blvd.
Home furniture items that are not in good shape
Mattresses of any size
Building supplies (doors, lumber, built-in shelving)
Lighting fixtures
Large appliances such as stoves or refrigerators
(we occasionally take washers and dryers if there is a current need in one of our facilities)
Dirty, torn or stained pillows, clothes or bedding
Carpet remnants
Tube or rear-projection TVs or monitors
Printers and copiers
Lawn furniture
Hoses and sprinklers
Grills
Lawn mowers
VCRs and VCR tapes
Large console electronics
Paint
Open cleaning supplies
Used baby toys
Used stuffed animals
Prescription medications
Expired meds
Garbage
Breast pumps
Used baby toys
Anything that needs to be cleaned or repaired
If you are donating furniture or other large items, we ask that you schedule a free pickup by calling us at (904) 421-5171.
We cannot accept these items when delivered directly to our campus.