"And do not forget to do good and to share with others, for with such sacrifices God is pleased."
Your donations of food, clothing and other essential supplies help care for the hurting men, women and children at the Mission. We rely on the support of caring friends like you who help collect our most-needed items through donation drives with their churches, offices, schools and other groups.
There are many donation drive opportunities throughout the year when you can help meet our guests' current needs. For more information on hosting a drive for the Mission, please contact Angela Washington at

[email protected]

.
See how YOU can get involved!
See our current and upcoming drives and learn more about donating your items below. Thank you for blessing our community with these most-needed items!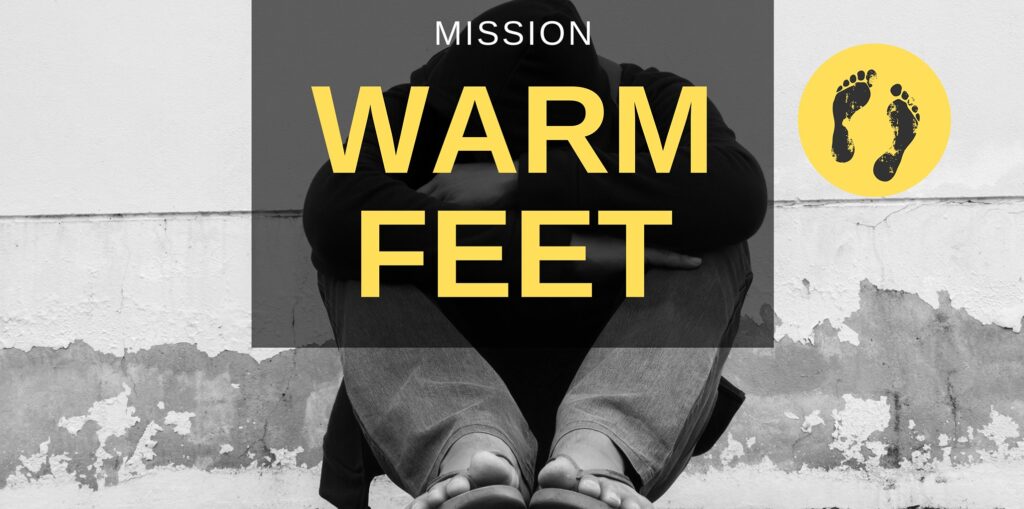 Mission Warm Feet is active until mid-November! Did you know that the number one clothing need for the homeless population is socks? These simple pieces of clothing are vital to staying warm and dry – and you can help us provide them to our neighbors in need. 
Organize a sock drive with your friends, neighbors, church family, school, etc. We need socks of all shapes, sizes and colors for men, women and children. 
To schedule a donation drop-off at City Rescue Mission's McDuff Campus, contact Sherrie Mack at (904) 387-4357 or

[email protected]

.
City Rescue Mission is hosting a Thanksgiving Turkey & Ham Drive to provide holiday meals for those in need, and we want you to join us! We need passionate, caring volunteers to help deliver meals and spread joy to our neighbors in need this Thanksgiving season. Join us and help share the spirit of thanksgiving and abundance in our community this year.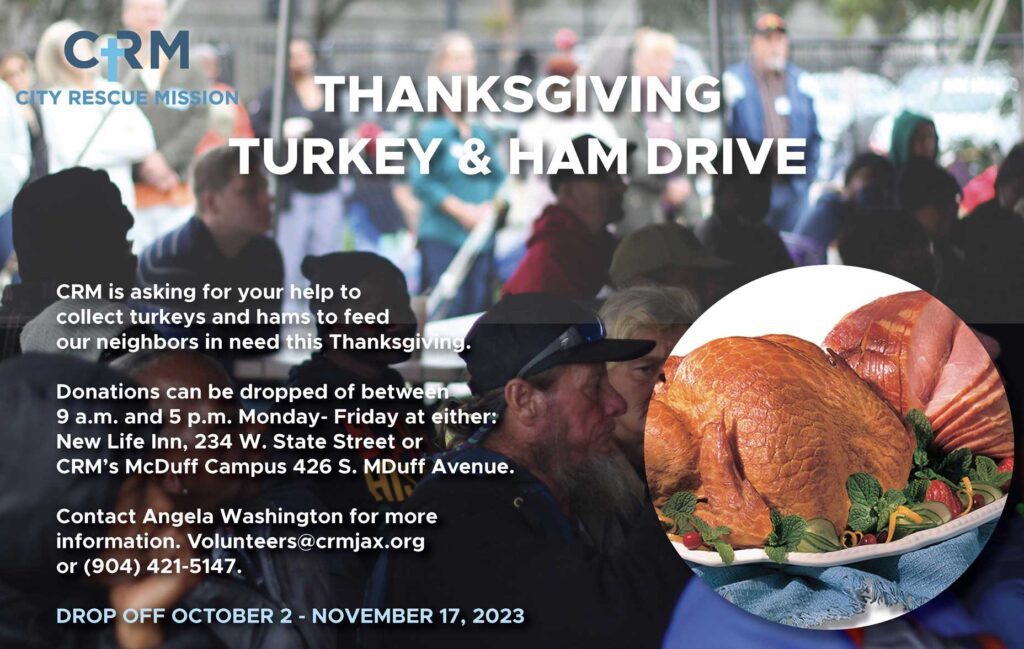 Help City Rescue Mission spread hope and joy during the holiday season with Shoeboxes Of Love! To participate, you fill a shoebox (or multiple!) with hygiene and care items from the list below, and drop them off at CRM. The shoeboxes are wrapped in blankets before they are handed out, so we highly encourage blanket donations along with your shoeboxes! 
The boxes are distributed to our neighbors in need at our annual Christmas Meal on December 21! 
Donations can be dropped off at our McDuff Campus before mid-December. If you have any questions, please contact Sherrie Mack at (904) 387-4357 or 

[email protected]

.
-Soap and washcloth
-Sunscreen
-Shampoo/Conditioner
-Wet wipes
-Toothbrushes and toothpaste (no mouthwash, please)
-Nail clippers
-New socks
-Deodorant
City Rescue Mission is excited to announce our annual Christmas Toy Drive – but we need your help!
This annual drive wouldn't be possible without the dedicated volunteers who work so hard every year to make it a success. We are looking for passionate community members to help us collect and distribute toys for children in need.
Join us in sharing the joy of the season and make a difference in the lives of these deserving kids!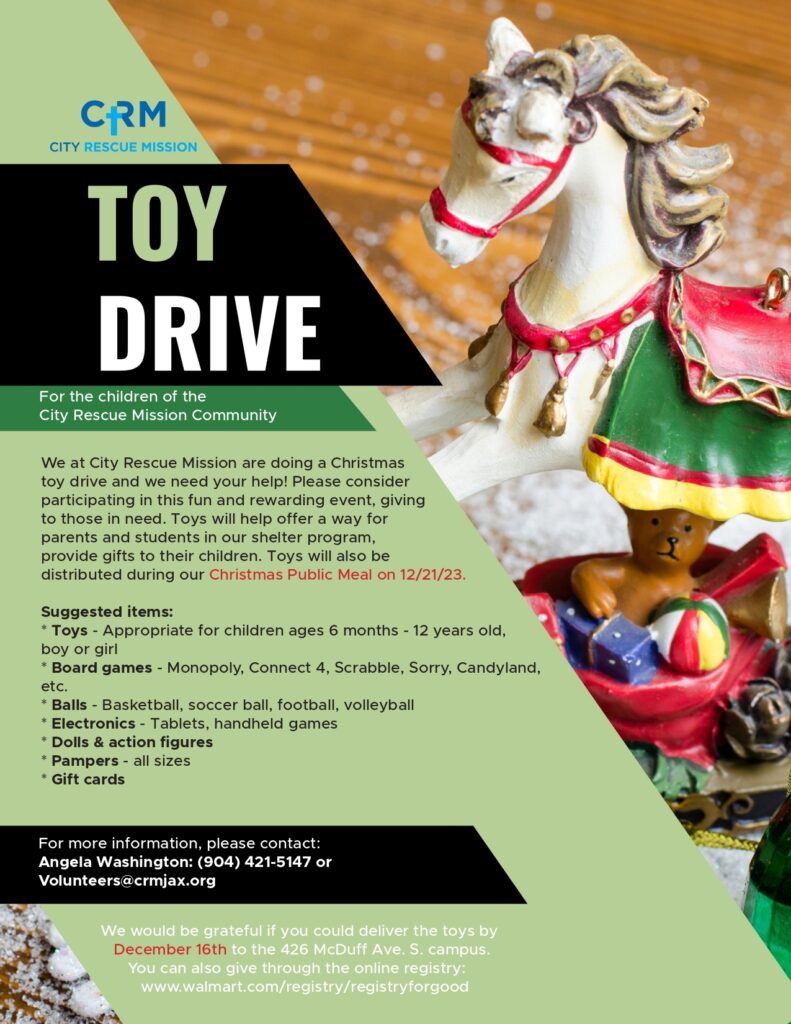 Become A Monthly Partner & Join The Hope Builders Circle
Monthly giving partners are so important to our ministry!
These are people we can rely on each month to give consistently and remarkably to help meet the needs of our homeless and hurting neighbors.


There are a lot of benefits to giving monthly: it helps keep our costs down, and it gives you confidence in knowing your support is making a difference every single month. Sign up today to be a monthly partner, and give in a way that provides reliable, steady income to ensure we're ready to care for homeless and hurting men, women and children… whenever there is a need to meet.