"The Mission supports my healing as a whole."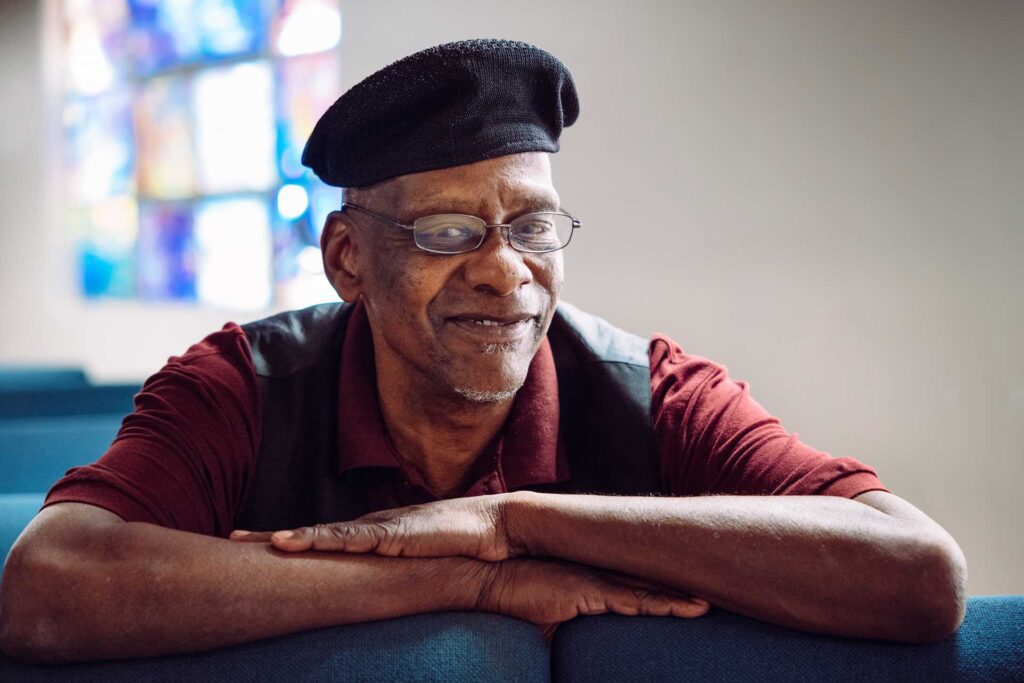 "But they that wait upon the LORD shall renew their strength; they shall mount up with wings as eagles; they shall run, and not be weary; and they shall walk, and not faint."– Isaiah 40:31 (KJV)
"I probably walked around this building for a whole week before I decided to come in. I lay out there on the sidewalk and finally let my pride go. And ever since that day, God has been blessing me." – Clarence
Although Clarence was close to his father and siblings, his mother held a special place in his heart. She was his cheerleader. Champion. Confidant.
"We used to talk a lot," he says. "She was my bestfriend." When Clarence was 18, his mom passed away. Without her, his world fell apart. "I just didn't care any more – I didn't care about life." So he struck out on his own – stealing, using drugs and doing things his mother would deplore. Ashamed of his actions, he pulled away from his loved ones, refused to let them help, and eventually became homeless.
Living on the streets, he struggled to find food. "I had nothing to eat and a guy told me to come to the Mission where they feed you every day at 5 o'clock." For Clarence, this outreach became the only light in a dark, vicious cycle of substance abuse and self-neglect that continued for more than 30 years, until, physically and emotionally, the lifestyle became too much to bear.
"I had that 'sick and tired of being sick and tired' feeling. I was looking at those around me, people who were doing drugs, and I could see myself in them. I knew I had to do something and I had to make a change. I couldn't do it on my own. So God led me back to City Rescue Mission."
This time he came for much more than a meal, but the decision to seek help was a tough one. When he finally surrendered and walked through our door, God wanted to make sure he was ready. After completing an application, he was asked to sit in the dining room and someone would be right with him.
"I waited for hours. I guess God wanted to see if I really wanted to help myself. He was telling me to stop running from Him. Just sit and wait. Suddenly I had patience because I knew what I needed and I would find it at City Rescue Mission." Clarence's wait was not in vain. He joined our LifeBuilders Program and flourished in our faith-based environment. With the guidance of compassionate staff and counselors, and through Bible study, skills development and work-readiness, he's building a sober, self-sufficient life in Christ.
"The Mission supports my healing as a whole. I'm learning to take care of myself… focus on my life and not the streets… and do the things God wants me to do. They are helping me make plans for my future, and then it's my responsibility to move forward and not backward."
Now, when Clarence looks in the mirror, he's grateful to see a different person – a godly man his mother would be proud of. Yet even once he graduates and finds a full-time job, he plans to remain connected with the Mission program, not only to help him stay accountable to the Lord, but also to share his life-transforming story.
"I'm going to come back as an alumni and tell other men and women to 'have patience – sit and wait – it'll work for you, too.'"